Woodturning Courses

Come and enjoy a few days of inspirational woodturning with me in the beautiful countryside of Crete.
In the well-equipped workshop you can learn with me and also enjoy views of the hills and sea.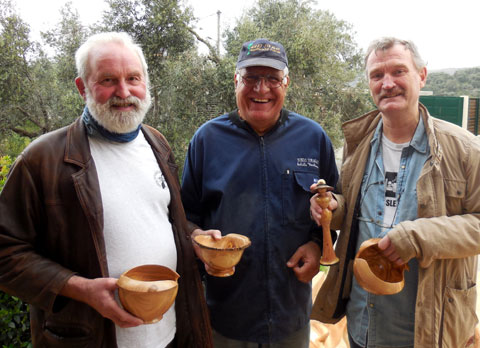 Create new work in beautiful surroundings.
.2 or 3 day courses are available on the dates shown below. Summer season: April to October, timetable is 10am to 3.30pm Courses are for up to 3 students. This timetable allows you to spend the rest of the day with your friends/family, to explore the area or just chill out on the beach.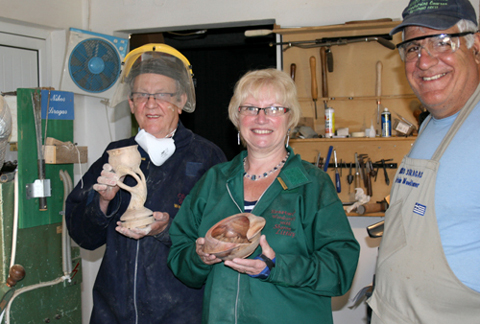 Turn in a spacious well-lit workshop.
NEW! One day 'taster' courses can be booked at short notice for those who may be thinking of taking up woodturning as a hobby and want to learn the basics, or maybe want to focus on a particular aspect of turning
Which course is suitable for you?
INTERMEDIATE AND ADVANCED STUDENTS - The two or three day courses are appropriate for you for up to 3 students.  I will assess your level and then suggest a number of possible projects that you could make.
BEGINNERS AND THOSE WITH LITTLE EXPERIENCE - The one day, one-to-one , course is appropriate for you.  This could be extended to a second day if necessary.  You will follow my step by step programme on tool use and cuts to make a simple item.
Includes pick up from your accommodation in Rethymno town and a light lunch. Olive wood to take home.
NEW! Winter season: November to March, 10% discount and a longer day 10am to 4.30pm
| | |
| --- | --- |
| | |
| | 2019 |
| January | 16-18 and 30/1-1/2 |
| February   | 13-15 and 27-1/3 |
| March | 13-15 and 27-29 |
| April | 10-12 and 24-26 |
| May | 15-17 and 29-31 |
| June | 12-14 and 26-28 |
| July | 10-12 and 22-24 |
| August | 7-9 |
| September | 4-6 and 18-20 |
| October | 2-4, 16-18 and 30-1/11 |
| November | 13-15 and 27-29 |
| | |
| | 2020 |
| January | 15-17 and 29-31 |
| February   | 5-7 and 19-21 |
| March | 4-6 and 18-20 |
| April | 8-10 and 29/4-1/5 |
| May | 6-8 and 20-22 |
| | |
Other Activities:
We can help organize other activities for you or your partner, such as:
Guided walks in the area
Sight seeing excursions eg Spinalonga, made famous in the book 'The Island'
Ballroom dancing/cretan dancing
Scuba diving
Click on this link to read about a recent student's partner, who experienced some of the activities here while her husband was on a woodturning course.
Please ask if there is something you are interested in and we will try to provide it!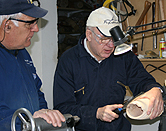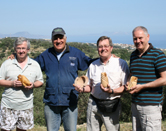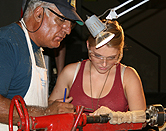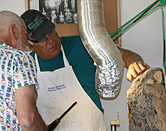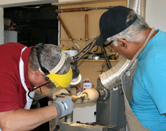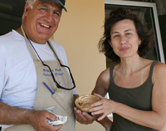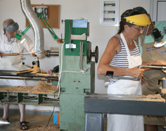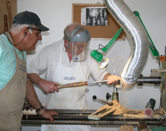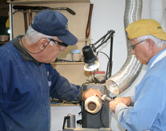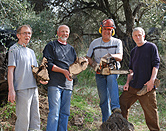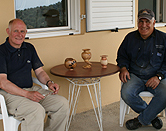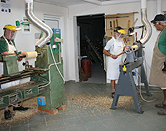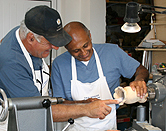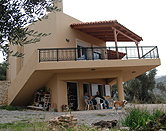 Course Details
Courses are available for different levels of student:
-new turners who want to learn the basics of turning
-intermediate turners who want to learn more about creating hollow forms, with a little carving
-advanced turners who war interested in combining turning and carving to create sculptural forms
All courses will deal with safety factors, wood storage and treatment, tool sharpening and technique, design considerations.  I have many varieties of wood to show you and we can work with some of them.
My house and workshop are set in wonderful scenery , 10 minutes drive from Rethymno with its long, sandy beach, delightful Old Town and many good quality hotels and apartments.  There are two airports, Chania and Heraklion both about an hour from Rethymno.  To make your trip easier my wife and I can help organize your accommodation and transport while you are here.

A few of the comments from students:
David Bright's article about his course with Nikos in June 2014, for his club newsletter (link opens in a new window)
David Ritchie's article about his course with Nikos in May 2014 for his club newsletter (link opens in a new window)

Great experience, ideal surroundings for a relaxed learning session.  Nikos explains the process really well and inspires thinking and imagination as much as tool use.  It has been a great asset in my development and I will remember the lessons for a long time.  I hope my work improves and is worthy of the inspiration from Nikos. Mike, Scotland

Fantastic training and tuition. Maybe my work will improve from here?  Certainly my finishing will.  Thanks Nikos and Frances – I will have great memories to take home in addition to two unique pieces. 
Dave, England

Six hours in Nikos' home runs like one hour.  I have received a lot of useful info, I've got a lot of pleasure.  It's one more step in my skill improvement.  Thank you, Nikos. Nikolay, Ukraine

Thank you for a wonderful few days woodturning.  We both had a great time and were extremely happy with our finished projects.  Thanks also for some delicious food Frances which we ate in such spectacular scenery.  You are both so lucky to have a house with such views.  Thanks again Niko. Sharon and Clive, UK

The best two days of my life.  It was so nice to be taught by the best.  Thank you for everything.  It was well worth the journey from North Wales.  I feel as though I have a new friend. A. Bowden

Nikos and Frances, Thank you , thank you! Your warmth and hospitality were amazing. Two of the nicest people we could ever meet. Nikos – an inspiration! You have helped me to see beyond the wood and experience the delight of new techniques. What a wonderful way to spend 2 days and have such great conversations. This will remain with me always. Thank you Lance, Canada

It has been one of the best experiences ever, being here for 3 days. I have so many challenges to aim for when I get home. You must come to Ireland some time. Thanks for everything. Charley, Ireland

Have spent 3 lovely days with Nikos. The learning was intense but joyful , and my knowledge expanded immensely. Thank you Fran and Nikos! Uri, Israel

More comments...........


Enjoy the view from the lathe. And beautiful walks in the area.



View of our new house with the spacious workshop underneath.

Please contact me for further information at: nsiragas@yahoo.com

I look forward to meeting you in my workshop!