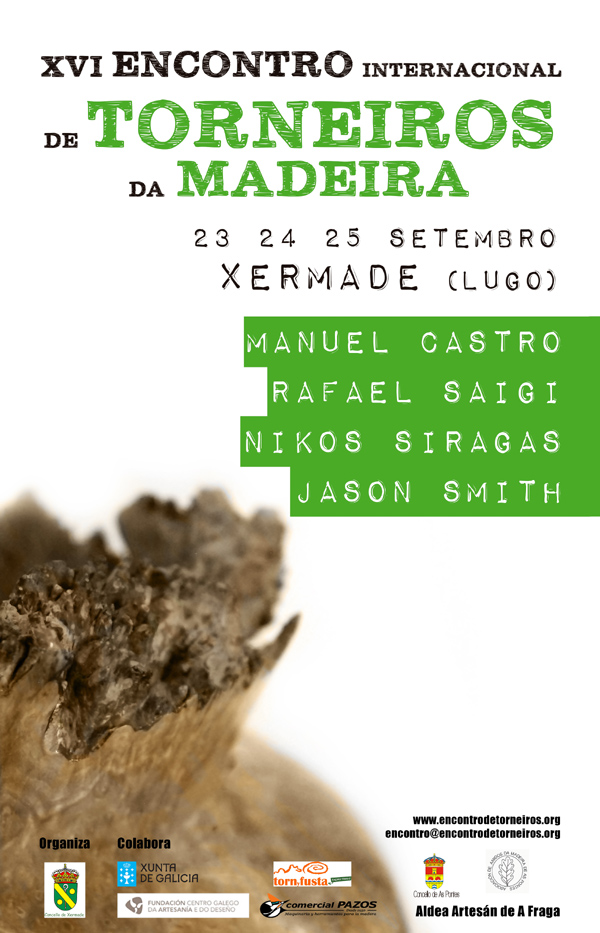 October 2013
Nikos will be discussing his work and demonstrating for a cultural group that meets at the Cretan Corner Taverna at Aptera, Hania. The event will start at 11am on Friday 29 November and all visitors are welcome.

September 2013

Issue 258 of Woodturning magazine will have a letter by Frances on the subject of teaching woodturning in UK schools and about some of Nikos' work with schoolchildren in Rethymno. In November Nikos will be demonstrating for children at a school in the North of England.
August 2013
An exhibition by well-respected local painter Nikos Glynias will take place at the Military Museum at Hromonastiri, 10 to 20 August 2013, 10.00 to 14.00 each day. The museum is a beautifully renovated large Venetian property set up in the hills above Rethymno. The opening ceremony will take place on 10 August 19.30. At the centre of the exhibition is work by Nikos Siragas: a large plate turned from an olive wood trunk which is more than 100 years old. Organised by SYNOPOLIS
July 2013

Nikos will be visiting the Harrogate Woodworking Show which takes place
22-24 November, he will also be fitting in 2 demos just before the show - see the Events page for further information.
We have removed Recent Activities from our site as you can find more up-to-date information on our Facebook page www.facebook.com/nikos.siragas

March 2013

A short article on our new shop will appear in Woodturning Magazine, issue 254

December 2012
We have just signed a contract to take on a shop from I January 2013. We will move from our old premises to this one sometime in February, it will have a small workshop and gallery. The address is 38 Varda Kallergi, in the Old Town of Rethymno. We will update the directions on this site and add a map in January.

A Happy Christmas, A Peaceful and Prosperous New Year.

October 2012
The novel Labyrinthine Ways by Aurelia, (which includes Nikos as himself in the story of a character that goes to Crete to learn about woodturning with Nikos and has other adventures while there) is now available on www.amazon.com and www.greeceinprint.com. ISBN 978-1-932455-24-3

The article by Nikos about Woodturning in Istanbul is now available in Woodturning magazine

August 2012
Our article on our trip to see woodturning in Istanbul is to be published in Woodturning magazine issue 246 (or 247).

June 2012
Woodturning magazine will be publishing Nikos' article on how to create a Wall hanging. This will be in issue 242, available at the end of June.

Rethymno Woodturning Club
On 29 January 2012 Nikos started the first meeting of his woodturning club. Please click here for further details.

July 2011
Article available
An article by Nikos on a Carved Vase will be available in issue 230 (September) of Woodturning magazine, available in shops on 21 July 2011.

June 2011
Nikos in Woodturning Magazine
Nikos has written an article on a Carved Vase for Woodturning magazine which will appear in the next 3 months -soon we will let you know which issue and when it will be available.

May 2011
Literary Fame for Nikos Siragas
Greek turner Nikos Siragas is to appear as himself in a novel to be published late summer 2011 by Cosmos Publications, the largest publisher of Greek subject books in the world. The book, Labyrinthine Ways by American authoress Aurelia, is written in English and tells the story of a young woman who wants to become a woodturner and travels to Crete to take lessons with Nikos and explore Crete. The novel describes the art of woodturning in detail and also includes many interesting aspects of the island of Crete, mentioning several other real people along the way. The author contacted Nikos over a year ago for some background detail and then asked permission to use his name and character in the novel. She had found Nikos' details from the American Association of Woodturners (of which Nikos is a member) and had visited turner Robert Rosand to gain an insight into woodturning. Aurelia will be visiting the UK, Australia and Greece to promote the book later this year.